The Student Forum in the Tönissteiner Kreis e.V. is a dialogue and project forum that seeks to create social impact through its project work. It was founded in 1999 as a young talent network of the Tönissteiner Kreis. We are united by the conviction that social tasks can be solved in an interdisciplinary and international way.
Our members initiate projects and create a dialogue between the young generation and leaders in business, science, politics and media. Our network connects motivated and internationally minded students and young professionals of all disciplines. Our forum is denominationally and politically independent. Our work is based on a lively exchange with the Tönissteiner Kreis e.V. and prepares our members for international tasks in leading positions.
We connect, shape and take responsibility.
…connect
We provide networking opportunities.
The members of the Student Forum gain important experience in implementing projects such as studies, international summer academies, study trips and workshops. In doing so, they gain opportunities for networking- both with each other and with the members of the partner organizations within the Politeia network.
Through these activities, contacts are established among students with similar interests and high sociopolitical awareness. Within the framework of joint project work and various events, members contribute their individual experiences and diverse views, inspiring and motivating each other.
…shape
We create space to shape your own initiatives.
The Student Forum thrives on the initiative of its members, who carry out "independently conceived and organized events on topics of international politics and economics" (§ 2 of the statutes). The members of the Student Forum design and organize these events according to their interests and abilities.
The Tönissteiner Kreis is a strengthening backbone and supporting partner of our work. The experience, know-how and contacts of its members contribute significantly to the success of our projects.
…take responsibility
We promote sociopolitical engagement.
As members of the Student Forum, it is particularly important for us to reflect and also help shape issues of international political concern in a practical way. This enables members to further develop their interest in national and international challenges.
From education policy to the recruitment system of young political parties, from Europeanization of the Foreign Service to the perception of Germany in the world, our work covers a wide range of socio-politically relevant topics.
Organization
The Student Forum has a close exchange with the Tönissteiner Kreis e.V. Being a separate association, the Studierendenforum is largely independent, but the selection of members is made by representatives of the Tönissteiner Kreis.

The Students' Forum in the Tönissteiner Kreis currently has about 200 members. In the last 20 years, about 400 young adults have benefited from the support of the Student Forum. For the content-related work they establish independent project groups, for regional cohesion they are organized in regional groups at home and abroad.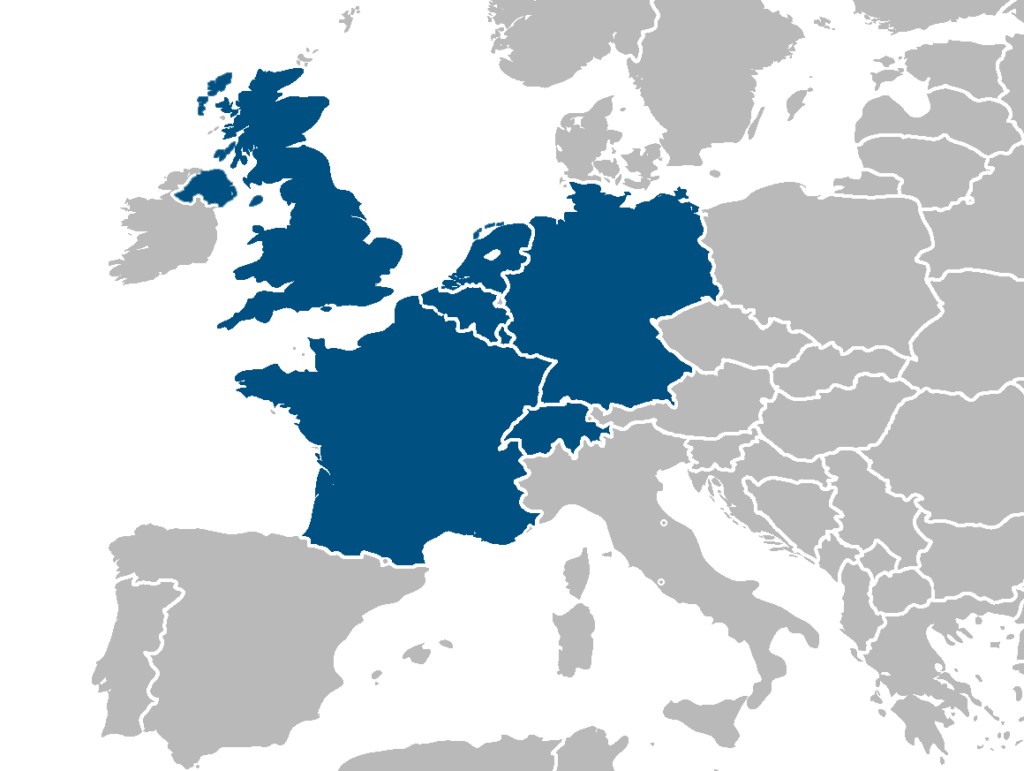 Overview of our current regional groups:
In Germany:
Berlin
Hamburg (North)
Munich (South)
NRW
Rhine Main Neckar (Center)
Europe:
France/ Benelux
Switzerland
UK
Outside Europe:
Image source: Roke, licensed by CC BY-SA 3.0 (colored)
A four- to five-member Board of Directors, elected by the membership for a one-year term, conducts the business of the Student Forum. It is responsible for the continuing development of the Forum in accordance with our mission statement and for the coordination of all projects and resources. It is elected at the annual general meeting.
In addition to the board of directors, two diversity officers are elected by the general meeting to serve as contact persons in cases of discrimination as well as cases of sexual harassment and to work for an inclusive association life. They ensure that diversity aspects are considered and taken into account in all activities of the association, as well as improvements to the current diversity management.
The diversity officers welcome questions and suggestions at any time (see below for contact).